Description :
This Is Amazing For Your Child's Imagination!
Fort Magic Kit is an innovative fort building and construction toy that enables children to build 3D, kid-created, "life-size" worlds for inventive play!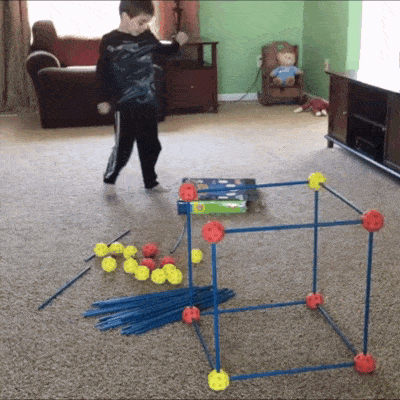 This Fort Building Kit lets kids construct anything they please! Let your child see their ideas come to life. Give them a fun indoor activity that will keep them off the screens and entertain them for hours!
 Endless Possibilities For Hours of Fun!
Our Fort Building Kit provides a great creative outlet for children to learn while playing. Improves hand-eye coordination and strengthens small muscles as they discover how to put together the ball connectors and sticks.
Easy to Assemble and Durable: It is made of sturdy high-quality plastic, just insert and screw the rod into the ball, the builder can connect in a few seconds, easy to disassemble, and it will not deform. It comes with a storage bag, suitable for indoor and outdoor activities.
The kit also comes with a small instruction manual that shows you how to easily assemble things like a boat or tent.
Stimulate Creativity and Imagination: The perfect innovative toy, suitable for children 2-3 years old and above. Children work hard to plan and solve problems, build different innovative structures, perfect educational toy gifts, suitable for birthdays, holidays, Christmas, Halloween, and New Year!
Specifications:
Made of BPA-free plastic
Stick with connector measures 14.6 inches (37 cm)
Ball connector measures 2.17 inches (5.5 cm)
Suitable for kids 3 years and older
The package includes:
A: 100 sticks + 55 balls + tent
B: 100 sticks + 55 balls
C: 45 sticks + 21 balls + tent
D: 45 sticks + 21 balls
E: 51 sticks + 36 balls + tent